The Different Types of Gutters and Which Is Right for Your Roof
New gutter installation is a simple, cost-effective way to protect your home from water damage, mold growth, and roof rot. With so many factors to consider in picking out new gutters, it's easy to get confused or overwhelmed, but this guide will help. We'll go over the different types, shapes, and styles of gutters for homes, as well as common gutter materials. By taking the time to make an informed decision, you can make sure you're making a sound investment in the performance and quality of your gutters and in the protection of your home.
Recognize the Signs You Need New Gutters
Once your gutters start showing obvious signs of wear and tear, you should consider replacing them. Installing new roof gutters is often more cost-effective than gutter repair, because new gutter installation will last for 10-15 years if they are well-maintained and cared for. If you keep paying for gutter repairs over and over, eventually you'll end up spending as much as you would have on new gutter installation! Ignoring problems with your gutters increases the risk that water won't be correctly diverted away from your home's foundation, roof, attic, or basement. Then you'll end up paying for water damage repairs and mold remediation. Take a look at these signs you need gutter repair or new gutter installation:
Gutters are cracked or peeling
Gutter seams are separating or leaking
Exterior siding of the house is peeling, warped, or shows signs of water damage
Exterior wood trim is rotting, peeling, or wet to the touch
Mold or mildew growth is evident on the exterior of your home or near the roof
You keep finding pools of water near your home's foundation, or see signs of water pooling on the roof
You see water marks or water damage directly under the gutters
Gutters are sagging or pulling away from the house
You've found fallen nails or fasteners on the ground under the gutters
Understand the Purpose That Gutters Serve
While they are very simple in design, gutters actually serve a very complex, important purpose. Gutters divert rain water off of the home's roof and away from your home's roof, siding, and foundation. When gutters malfunction or are clogged with leaves and debris, water can begin to pool up on the roof. This will eventually lead to problems that are not only costly to repair, but can affect the structural integrity and safety of your home. If your roof gutters are failing and you don't quickly invest in new gutter installation, you risk roof rot, leaks, water damage, mold and mildew growth, and foundation or structural damage.
Consider These Factors for New Gutter Installation
Before you hire someone for new gutter installation, you should consider certain factors to make sure you're picking out the right gutters for your home:
Gutter Types – There are more than 10 different types of gutters available to homeowners for new gutter installation.
Gutter Material – Roof gutters come in different materials, including aluminum, copper, steel, and more.
Gutter Cost – The cost of new gutter installation and gutter repair depends on the type of gutter and gutter material.
Decide Between Gutter Repair & Gutter Installation
Most homeowners want to save money on home repairs and maintenance services, so they are always looking for the most cost-effective solution. Sometimes, gutter repairs are enough to ensure your gutters keep functioning properly for another five years. However, sometimes it will actually be more logical to invest in new gutter installation. Installing new roof gutters will protect your home for the next 10-15 years, whereas frequent gutter repairs add up and you never know when another area of your gutters will need attention. When you're determining whether you should opt for gutter repair or gutter installation, consider these factors:
Age of Your Gutters – If your gutters are more than eight years old, you are better off installing new ones than paying for gutter repair.
How Many Times They Have Been Repaired – If you've paid for gutter repairs more than once in a year, or for more than three years in a row, you should install new roof gutters.
Material of Your Gutters – Galvanized steel gutters are prone to rusting and need to be replaced more often. Vinyl gutters aren't as durable as metal roof gutters and will eventually break down due to sun damage.
Future Plans for Your Home – If you just moved in and your gutters show minor damage, you might be better off opting for gutter repair. If you've lived in your house for a decade or are considering selling it soon, you should invest in new gutter installation.
Location and Extent of Gutter Damage – If only one or two sections of gutters are damaged, you can replace those sections without needing new gutter installation. If there are only a few holes or cracks, or a single seam is leaking, then gutter repairs will be less expensive.
Review Different Gutter Types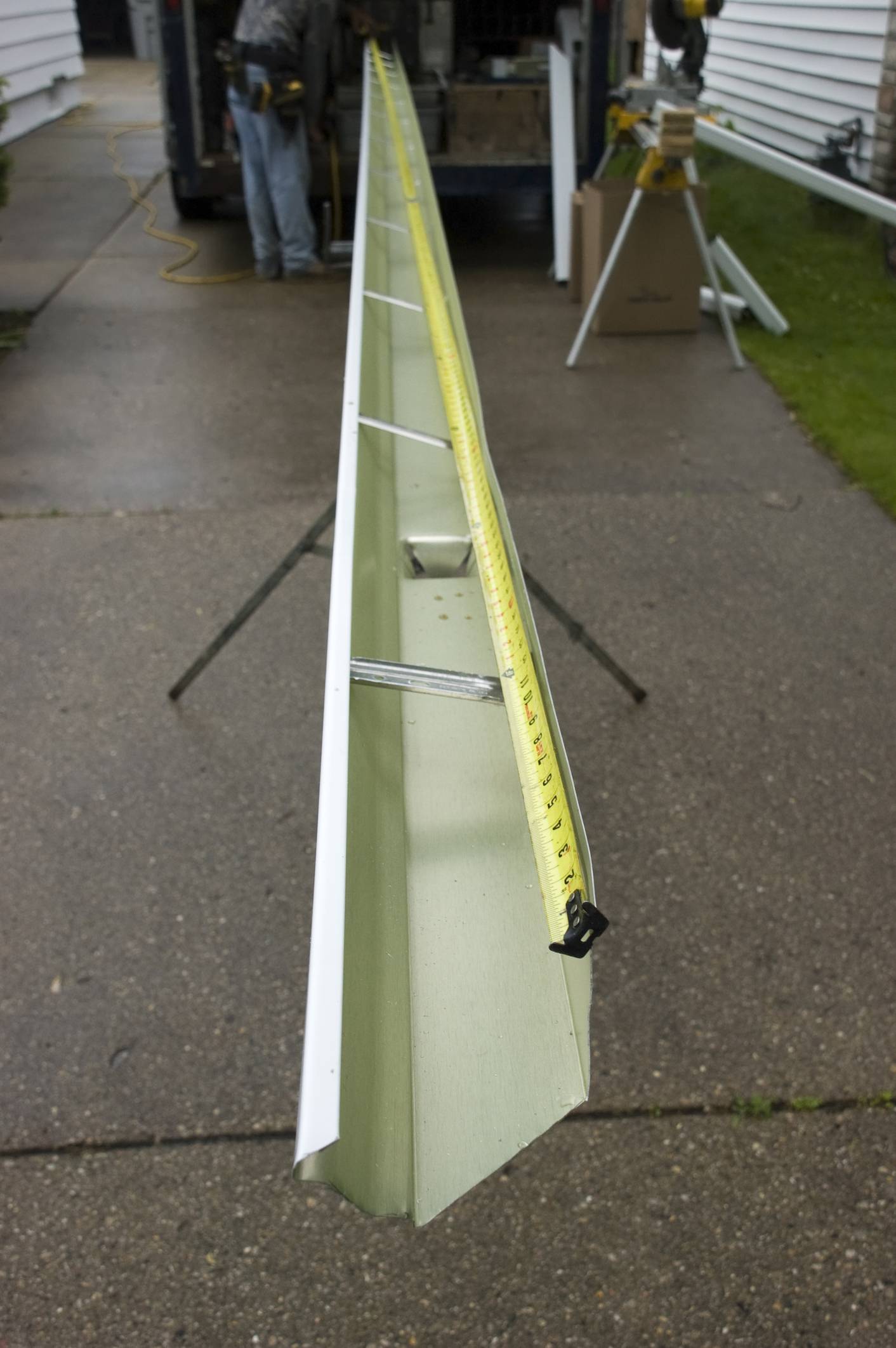 If you've decided on new gutter installation rather than gutter repairs, the first choice you'll make is the type of roof gutters you should use. Roof gutters are available in seamed and seamless. Here's a look at the difference between the two:
Seamed Gutters – These roof gutters come in 10-foot lengths that attach directly to the home's fascia using metal hangers. They are manufactured in vinyl, galvanized steel, copper, aluminum, and zinc. They come in many styles, including half-round, k-style, box-style, and custom fascia. Seamed gutters are affordable and can be easily repaired if one section gets damaged.
Seamless Gutters – These roof gutters are all one piece rather than in separate sections. They can be cut to any length. They are typically only available in rolled aluminum, and are more expensive and require professional gutter installation.
Pick a Gutter Shape
Next, you'll need to pick a gutter shape. If you're replacing old gutters, you might want to stick with the same gutter shape that was previously installed. However, the person you hire for gutter installation can retrofit a new style or shape of gutters to your home.
Half-round Gutters – These roof gutters have an open construction in a u-shape, and the open side faces the roof. They clog easily and are hard to clean and maintain. They are wide and protrude from the fascia by about five or six inches.
K-style Gutters – One of the most popular gutter shapes. They look similar to crown molding, and are more decorative than utilitarian. These roof gutters are deeper and have greater structural integrity; however, they collect more debris and are prone to clogs.
Custom Fascia Gutters – This style of roof gutters has a smooth face that is custom fit to the home. They hide the rafter tail edges from view and create a neat appearance. These offer a contemporary aesthetic and seamless design. They are narrower than k-style gutters, so are more difficult to clean.
Box-style Gutters – The most heavy-duty type of roof gutters, box-style gutters are typically used on commercial, industrial, and multi-unit residential properties. However, if you live in an area with frequent, heavy storms, you might consider them. They are bulky and protrude as much as 10 inches from the fascia.
European-style Gutters – These gutters are the same as half-round gutters, but are specifically made from materials that are weather-resistant, like copper.
Explore All Possible Gutter Materials for Installation
Finally, you have to consider the material of your gutters. You can make this decision based on the cost of new roof gutters, or the durability or lifespan of the material.
Vinyl Gutters – One of the most common gutter materials, as it is so cost-effective and versatile. Also available in a wide variety of colors. They have a lifespan of around 10-20 years with proper care and maintenance. They are very durable, but are also heavy and can strain the fascia.
Aluminum Gutters – Another very popular gutter material. Aluminum roof gutters are cost-effective and rust-resistant. They can be painted in any color. They typically last around 20-30 years with proper care and maintenance. They are prone to denting.
Galvanized Steel Gutters – These roof gutters are resistant to rust, heavy rainfall, and wet weather. They also hold up to dents better than aluminum gutters, but are less durable than vinyl gutters. They can last between 20-30 years with proper care and maintenance.
Zinc or Copper Gutters – Zinc and copper roof gutters can last between 80-100 years with proper care and maintenance, but they are much more expensive than any other type of gutter. They are very low-maintenance and are pre-treated to resist rust, cracks, and scratches. Zinc gutters aren't a good choice for regions with salty air or cedar-shingled roofs, however.
Are You Searching for Gutter Repair or Installation Near Me in Harford County Maryland?
If you've been Googling "gutter repair near me in Belcamp Maryland" because your gutters are old and worn out, give us a call at Harford Roofing Services. Our team has extensive experience in evaluating the health and safety of home roof gutters, and we can help you determine if it will be more cost-effective to replace your gutters rather than repair them. We specialize in gutter repairs and new gutter installation of all types and materials of home roof gutters. We can also assist with gutter maintenance and gutter cleaning services. To learn more or schedule a roofing assessment, call us today at (443) 292-6020 or request a quote for gutter repair or new gutter installation online on our website.